Adrienne Marie
När började du spela beachvolleyboll?
I'm not sure when I first started playing beach volleyball. But I do know that I was 31 when I changed from being a professional indoor player to a beach volleyball player.
Meriter som spelare
I am Australian.  I have represented my country in both indoor and beach volleyball. I stopped playing due to injury, and I have just started training again for fun. I have also played in the Swedish beach tour and placed 3rd.
Meriter som tränare
I have worked as a professional coach many years, now I am taking some time off from coaching and working at the beach center for the fun of it, and so I can also have fun and train again myself. I am also a qualified Personal Trainer.
Most recently, I worked with the Swedish junior landslaget at the CEV u18 championships. We came 4th and qualified the team into the world u19 championships.
Vad kan man kan förvänta sej av att ha dej som tränare?
I believe it's important to understand "why" we do things a particular way in drills, So During training I can help you also understand the game better.
I will also adjust things to fit with where your skill level currently is now.
Vad är du extra bra på att lära ut?
I can work with all people, all skill level, from beginners to experienced. I also love showing indoor players the differences you need to make for beach volleyball.
Tider du kan vara tränare?
I am a Personal Trainer at Nordicwellness Domkyrkan, so I can be flexible with my  available coaching times. As long as I don't have a client booked in, then we can train 🙂
When I work with an individual person  or  a group, it's important that we discuss first what it is that they want from the training and what their goal and motivation is.
Vill du tillägga något?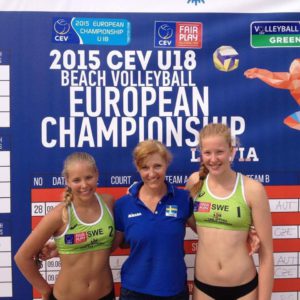 I am happy to work with anyone and everyone who wants to make improvements. I can work with you to improve your skill level and understanding of the game.
I am also a better coach than I am a player.
I believe in health of your body and that people often underestimate what we can achieve. I believe strength training (lifting weights) is important to your longevity, happiness and in being able to do the things you love longer ie: beach volleyball.
You can also talk to me if you want a gym program.